Ibotta Review: Is Ibotta Worth the Time in 2021?
You get paid to shop – doesn't that sound strange? Until recently it did, but with the onslaught of rebate apps taking over the market, we thought we'd jump in headfirst too. One of the oldest rebate apps we kept hearing about is Ibotta. Originally a grocery store rebate app, Ibotta has come a long way. Now not only is it a mobile app for grocery store rebates, but it's available online too as an extension and you can shop retail. Check out our thoughts in this Ibotta Review to see if it's worth it for you.
What is Ibotta?
Ibotta is an app rebate system. Remember the old rebates – the ones you had to fill out and mail in, waiting weeks for your money? Ibotta is the modern version. There's no paperwork or stamps needed – just the Ibotta app and the desire to save money. It primarily works on groceries (that's its staple offering) but you'll find offers on retail goodies too – even liquor and hotels!
There's more. You can even earn cash back when you shop online. Buying back-to-school clothes? Shop through your Ibotta app and earn 2% – 5% back just for shopping. Buying a new electronic or maybe a gift card for a birthday? Again, shop through Ibotta and earn a portion of your purchase back – it's that easy.
How Does Ibotta Work?
Start by signing up for an account and downloading the app. You'll see offers in your dashboard. They range from specific grocery items to purchases at specific stores. Note, if you select an offer that requires an uploaded receipt, you have 1 week to do so.
For in-store purchases, you have a few options:
If the store has a loyalty program, link your card to Ibotta and automatically get credited for the purchases

Link your credit card in your Ibotta app and 'Pay with Ibotta' at the store for automatic redemption

Upload your receipt (this is the traditional method)
You can even scan products when you're in the store. Maybe you see something new and aren't sure if you want to try it. Scan it with the Ibotta app and see if there's a rebate available. If so, maybe it's a sign that you should try it? Don't forget to shop online too. Scroll through the offers, most of which are a percentage of your total purchase offers and shop by clicking the button in your app. You don't have to do anything else; Ibotta tracks your purchases and rewards you accordingly. Prefer to shop online? Add the Ibotta browser extension and it will catch offers for you automatically.
When you're done and you've accumulated at least $20 in earnings, you can request your payment via PayPal, Venmo, or an e-gift card from one of their 20+ partners.
How Much Can You Really Make With Ibotta?
The average person earns around $20 a month using Ibotta, but that's not the limit. You get out of it what you put into it. First, let's talk about the sign-up bonuses. Use the app within 30 days and you'll earn yourself your first $20 bonus.  Here's how:
Earn a $10 bonus after making your first purchase in-store. It must be a specific offer, the 'any store or any product' deals don't count. Next, make a purchase through the mobile app online. It can be any offer. You'll earn an additional $5. Finally, complete any other offer whether in-store or online and get your last $5 bonus for a total of $20 earned in your first 30 days. Now, what about offers? You must buy the products at the store listed, but some say multiple stores. Grocery and household items usually give back between $0.25 and $5. But other retail store purchases give between 2% and 5% back on your total purchase.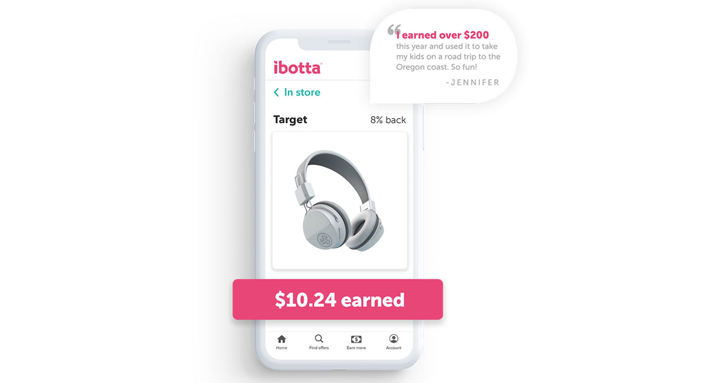 You earn as much as you want with Ibotta. Serious earners make $100 or more a month, with lifetime savings (Ibotta keeps track for you) of thousands of dollars. Others use the rebates here and there, saving a little bit at a time, sometimes hitting the $20 threshold each month and other times it takes longer.
Pay With Ibotta – How It Works
If you want your offers to automatically register (goodbye uploaded receipts), use the Pay with Ibotta feature. It's simple. Link your credit card or debit card to your Ibotta app (it's safe). At the register, select pay with a gift card and scan the barcode in your app. Now Ibotta knows your purchases and you'll earn your rewards.
Ibotta Referral Program
Ibotta also offers bonuses for each friend you refer. Typically, they pay $7 per referral once your friends sign up and complete their first offer. Sometimes they offer bonuses, though. For example, sometimes they pay a $20 bonus if you refer two friends and $50 when you refer ten friends. The bonuses change frequently, so check back often. If you haven't signed up with Ibotta yet, you can use our Ibotta Referral Code: QRJIYI and also check out our Ibotta Referral guide here.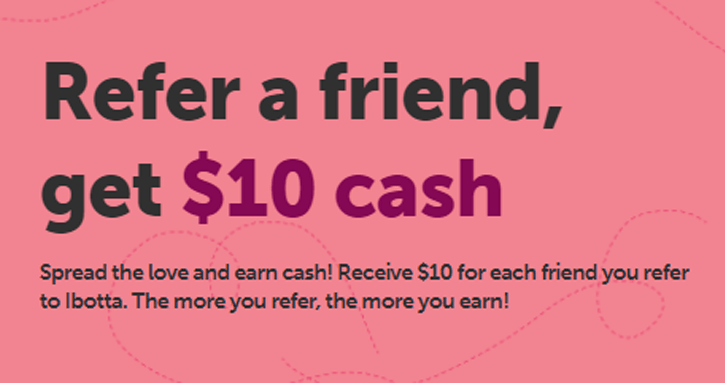 Is Ibotta Worth It?
If you love to save money, yes Ibotta is worth it. Will it make you rich? No. But it will save you money on things you already buy, namely groceries, but other household items and retail purchases too. If you don't mind shuffling through the app before you shop (while you make your list), scanning products in the store, or shopping through the app rather than the store itself, it's definitely worth it. Even if you only make the average $20 a month, that's around 4 Starbuck's lattes, which in my book is worth the few extra minutes it takes!
Ibotta vs. Rakuten – Which is Better?
Rakuten (formerly eBates) is one of Ibotta's fiercest competitors, but they do different things. In fact, you can use both apps and really earn money back. Rakuten is an affiliate marketer for more than 2,500 retailers. In other words, the retailers pay Rakuten a commission for each sale made through their app. Rakuten shares some of that commission with you.
Unlike Ibotta, you don't search for deals – you just search for the store. Say you want to shop at Amazon. You'd open your Rakuten app and search Amazon, and shop as normal. Rakuten takes note of the purchase, paying you a rebate for it, which averages between 2% – 40% depending on the retailer.
Is one better than the other? It depends on your shopping habits. Rakuten, like we said, is all retail. If you shop online a lot, why not get some nice cashback? Just know that you can only cash out four times a year (quarterly), as this gives Rakuten time to make sure you didn't return the product. Both Rakuten and Ibotta help put some cash in your pocket.
Ibotta Review – Final Thoughts
Ibotta is free to join and it pays you! Why not give it a try and sign up? Even if you hated clipping coupons before, this is different. You still don't have to do anything if you don't want to search offers – just shop online via your Ibotta app and you'll automatically earn cashback.
If you love clipping coupons, though, you'll love the savings in Ibotta. The offers update each Wednesday but some change daily, so check back often and see what's waiting for you. Each offer has an expiration date, so make sure you complete the offer in time and pay close attention to the store requirements. If a product says 'at Walmart' yet you buy it at CVS, for example, it won't count.
Have a little fun with Ibotta and at the very least, get your $20 bonus and see if it's something you enjoy!