Tastyworks vs E*TRADE – Which Platform is Better for Beginners?
Choosing the right trading platform is like choosing the right car. You need one that offers the features you'll use and that you need. While commissions and fees play a vital role as they eat away at your profits, you want to work with a platform that offers choices in assets, research, and ways to trade, whether online, desktop, or mobile. In this review, we look at Tastyworks vs E*TRADE.
Let's take options traders, for example, they could use any broker that trades options, but they aren't all created equal. You need a platform that offers the research, pricing, and has the technology to handle the volume you trade.
Tastyworks and E*TRADE are two popular and good platforms. Each platform has its pros and cons. Let's dive in to learn more.
Which Broker is Better – Tastyworks or E*TRADE?
E*TRADE has been around since the 80s. They were the first platform to offer online trading. They were the pioneers and the trendsetters for trading as we know it today. Since that first trade, E*TRADE has come a long way. They are one of the top platforms for digital trading and was recently acquired by Morgan Stanley, another successful and large online brokerage company.
Tastyworks doesn't have the history E*TRADE has, but they are a pioneer in their own way. The founders of Tastyworks also founded TD Ameritrade's Thinkorswim program. If you know anything about Thinkorswim, it's an option-driven platform. The founders used what they knew about Thinkorswim and what needed to be better and created Tastyworks. While it's only been public for a few years, Tastyworks fills a void that no other broker filled quite yet.
Which platform is better? Does history make one platform better than the other? Does the ability to trade options with extensive resources make Tastyworks better? They both have their benefits – it depends on the type of investor you are and the commissions you're willing to pay.
Check out the review below to get the details.
What investments do you want to trade? This has a large impact on which platform you choose. If you're a new investor or a widely diversified investor, you want a platform with more options. If, on the other hand, you have a focus, such as options, you want a platform that focuses mostly on that asset to give you the best chances at making profitable trades.
Tastyworks has a shorter list of investment options, but what they do trade, they specialize in. In short, this means options. As we said above, the founders are options experts. The platform was built by options traders for options traders, so you can imagine the robust features it has from educational resources to a speedy platform that makes active options trading simple.
E*TRADE, on the other hand, offers a large selection of investment choices that includes options. The difference? They weren't created for options trading. If that's your focus, you want a platform that offers the features and research that focuses on options as they aren't like any other trade available today. If you're looking for diversification, though, E*TRADE offers quite a selection.
What does each platform offer? Here's a breakdown:
| Instrument | | |
| --- | --- | --- |
| Stocks | | |
| Options | | |
| Futures | | |
| Forex | | |
| Bonds | | |
| OTC stocks | | |
| Penny stocks | | |
| Options on futures | | |
| Mutual funds | | |
| ETFS | | |
| Futures e-micros | | |
| Bitcoin futures | | |
| Futures on options | | |
Tastyworks has a nice feature for futures traders too. The Smalls Exchange, which is only for Tastyworks, offers partial futures trades, similar to fractional stock share trades. This opens up futures trading to all investors, not just the wealthy. The contracts settle on the third Thursday of each month but offer you the opportunity to try your hand at futures.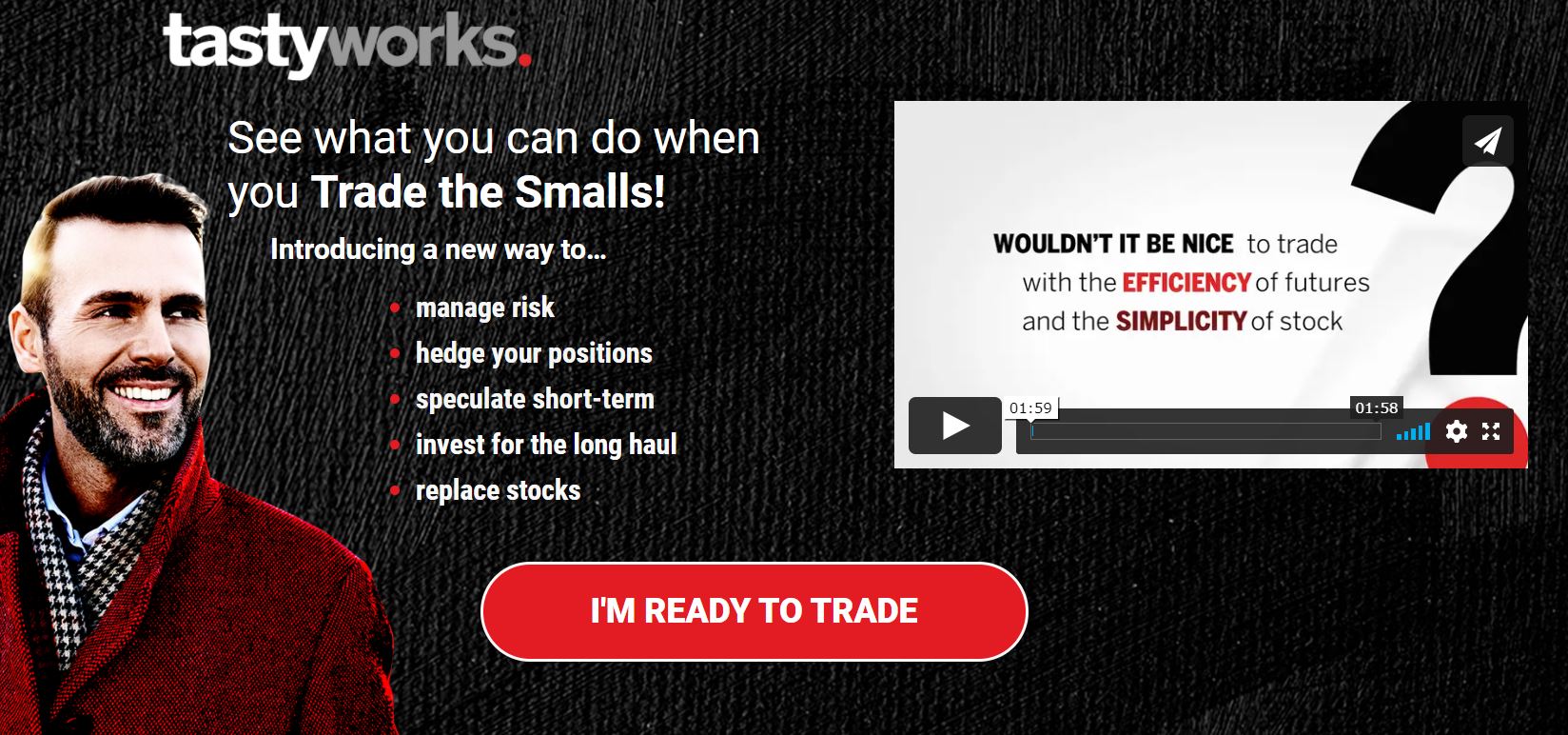 Which Broker is Better for Options Trading?
Tastyworks and options trading are synonymous. Like we said above, Tastyworks was created by options traders. E*TRADE also offers resources for options trading, which is good for those that need the extensive asset options E*TRADE offers.
E*TRADE offers a simple to use interface even for options trading, which can get confusing with platforms like Thinkorswim. If you're a beginning options trader, you may find the simplicity of E*TRADE refreshing. They offer support from options specialists and competitive rates.
Tastyworks focuses on options trading, namely active options trading. The interface is user-friendly and customizable enough for active traders to have all of the information they need in one place. Users can get customized alerts, create robust reports, and create trades fast. Tastyworks offers both single leg and multi-leg transactions while providing top quality options research.
What you probably want to know, however, is what are the fees? That's the bottom line for most investors because what's the point of trading without profits, right?
Tastyworks Commissions and Fees Compared with E*TRADE
Competitive prices are something both Tastyworks and E*TRADE offer. You may not find a whole lot of difference between the two, but it's important to know what they charge.
Fees and Commissions Comparison
| Instrument | | |
| --- | --- | --- |
| Stocks | $0 commission | $0 commission |
| Options | $1 to open/$0 to close | $0 and $0.65 per contract fee |
| ETFs | Not Available | $0 per trade |
| Futures contracts | Not Available | $1.50 |
| Bonds | Not Available | $1.00 (minimum $10 and maximum $250) |
| Mutual Funds | Not Available | $19.99 |
| Options Futures Contract | $2.50 to open/$0 to close | Not Available |
| Futures | $1.25 open and close | Not Available |
| Cryptocurrency | 1% of total crypto purchase to open and 1% of total crypto sale to close | Not Available |
Which Platform Has Better Features?
Think about the features you require. Are you an experienced, active trader looking for lightening quick pricing, fast trades, and robust research? Do you need quality screeners and diversified choices? Both Tastyworks and E*TRADE are available as a desktop, mobile, and online platform, so you can trade from wherever you are, but their features differ beyond that.
E*TRADE offers two platforms, the original and Power E*TRADE. The original is great for beginners or traders only making trades every so often. Power E*TRADE is for the complex investor that wants robust charting options and advanced tools. For example, options traders can see snapshots and charts that show the ups and downs of 'what if' scenarios, get information on 'odd options activity' that may trigger a great options purchase, and have the chance to 'paper trade' to practice before you risk your own money.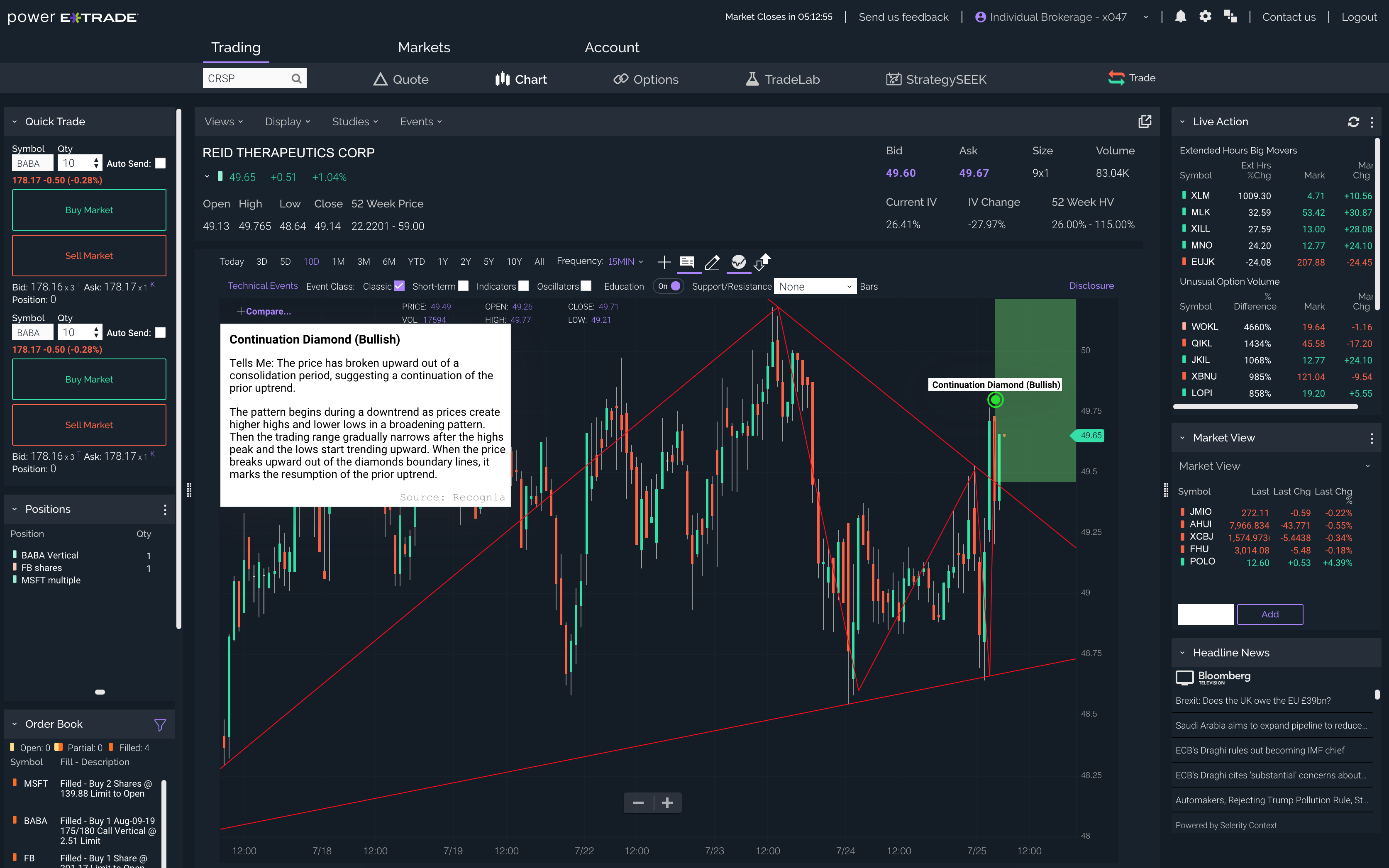 Tastyworks platform focuses on options trading, but you can easily trade its other assets too. Where Tastyworks stands out is its social trading. Have you always wanted to know what other traders do, especially the successful ones? With Tastyworks you can find out with social trading. Follow your favorite traders and check out their investments. Listen to their advice and even watch live-action video trades to get ideas for your own strategies.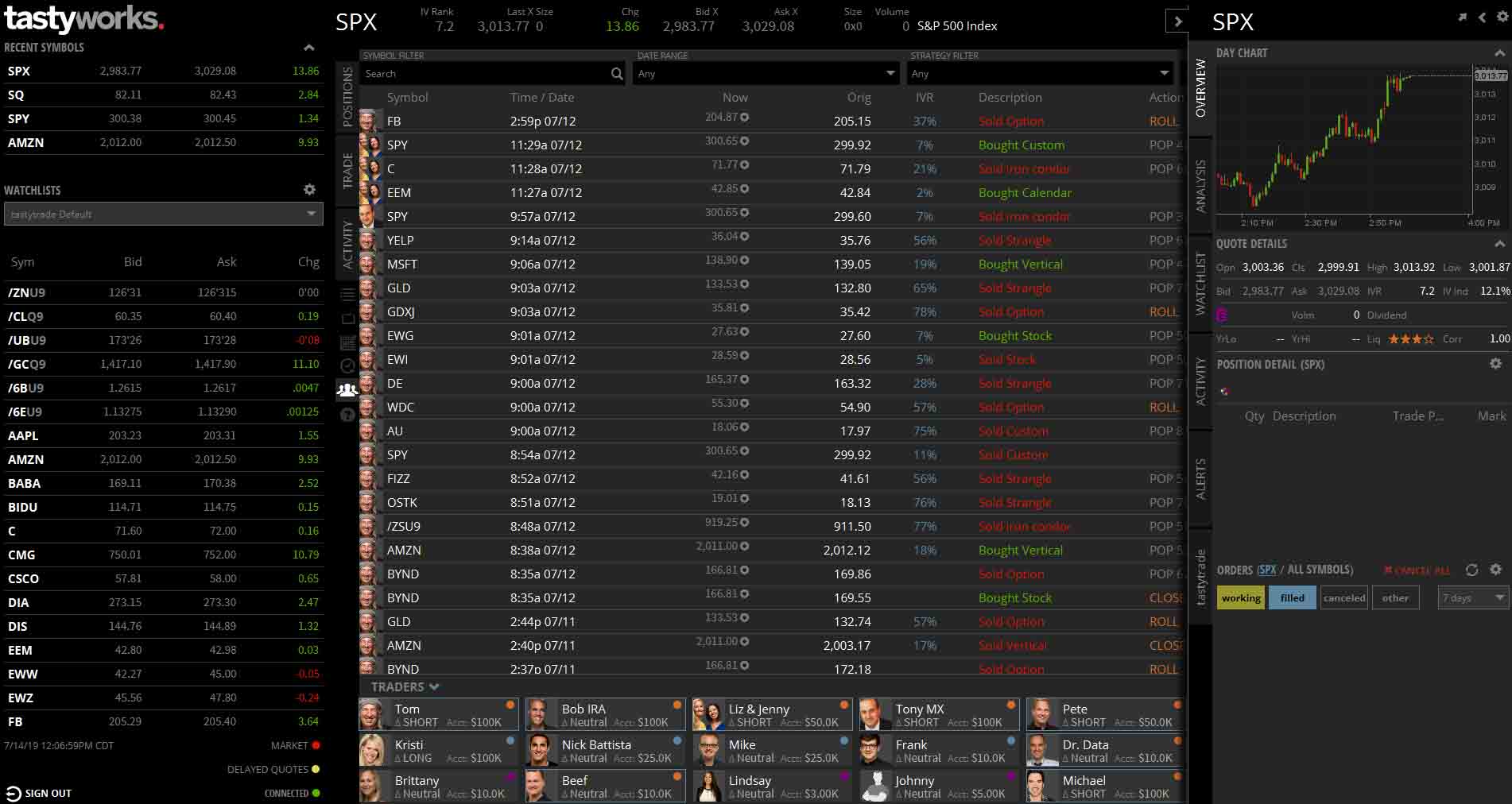 Does Tastyworks have Better Customer Service than E*TRADE?
E*TRADE offers phone, live chat, and in-person support at local branches. Most live support is available Monday – Friday and they offer a good knowledge base where you may get your answers without talking to anyone.
Tastyworks offers phone customer support Monday – Friday 9 AM to 5 PM and email support 24/7. While they don't have local branches, they often answer emails in a matter of minutes.
Margin Trading – Is it Easier to get a Margin Account with Tastyworks?
Margin trading is much easier at Tastyworks. You need an account with at least $2,000 and a few minutes to sign up – it's that simple. E*TRADE on the other hand doesn't make it that simple. In addition to the funds, you need months or sometimes years of experience on a cash-traded account before they'll consider approving your margin account.
If there's one thing E*TRADE is known for aside from low commissions, it's research. They offer access to research from more than 8 sources, making it easy to get the knowledge you need before making a trade. This is important, especially for active traders that want to make fast decisions and don't have time to conduct their own research.
Tastyworks offers just as reputable and possibly even greater research as it owns a sister site – Tastytrade, which is purely research and educational material. If nothing else, Tastyworks makes research fun. Watch live and on-demand videos or read articles; it's all engaging, enlightening, and makes trading a little less stressful.
Which Broker Should You Choose?
When all is said and done, there isn't a one size fits all. And perhaps that's why for most people who wish to trade options, futures, margin and equities, Tastyworks comes out on top. However, for the investor who wishes to simply invest in equities and have options to trade all the other major assets with potentially subpar technical analysis tools and resources, the TD Ameritrade is your best bet. Either way, both are fantastic companies that cater to certain audiences.  Another comparison you may want to check out is Tastyworks vs Fidelity.
We know you want us to tell you which broker is best for you. It's a personal decision. What do you want to focus on? Is it low commissions, trade speed, research, or platform features? As you can see, both platforms offer robust choices, but with different benefits.
For example, if you want a margin account, Tastyworks is the way to go. If you want to focus on options, going with the platform built for options traders just makes sense. If you're just starting out though, and want a bit of hand-holding throughout the process E*TRADE may offer the ease you need.
You can't go wrong with either platform; it comes down to the work you put into it and the features you use to maximize your investments.
If you want an in-depth review of Tastyworks, we've got you covered! Click here for our Tastyworks Review.