Webull Referral Promotion: Receive 4 Free Stocks Valued Up To $3700 With Webull Referral Bonus
Webull is well-known as a commission-free mobile broker with no required minimum balance. Both large and small brokerages can compete with one another in the Webull Environment. This platform allows flexibility in how you invest and allocate funds.
If you're looking for an online broker in the market, we can help you sign-up through our Webull referral. Use our Webull Referral Link and Get up to 4 FREE stocks valued up to $3700!
How to Sign-Up Using a Webull Referral Link
1. To create your Webull account, go to this Webull Referral Link.
2. Click "Sign up" from the upper right corner of the Webull website.
3. Enter your email address and make a password. Then click "Get Code." Enter the verification code that was sent to your email. Note that you need to verify it within 2 hours.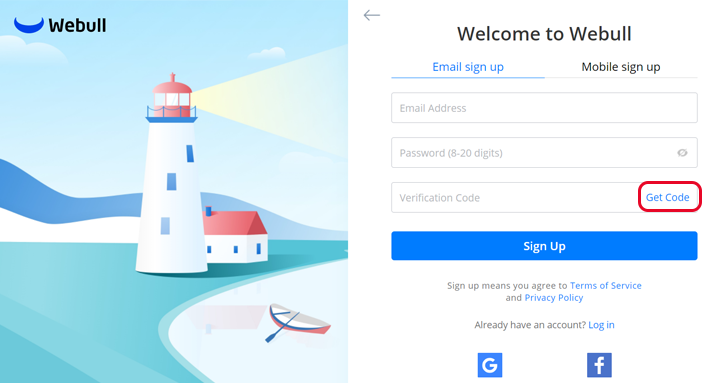 4. Once you have entered the verification code, click "Sign Up" and you're all set.
Webull Referral Terms and Conditions
Webull's referral promotions change often but typically involve free stock. The current Webull referral offer is from February 2, 2021, until March 31, 2021.
The account bonus is only valid for first time Webull users.
Accounts such as Webull IRAs are not eligible for the deposit bonus promotion. It is only valid for Webull cash and margin accounts.
A new brokerage account holder must make initial deposits of $100 or more between the promotion duration to receive two free stocks. Each stock has a value between $8-$1600.
The client may claim two initial deposit stocks, with an $8-$1600 value, as long as the initial deposits are made between the promotion period.
The stocks allotted for the reward are from Webull's inventory of settled shares held exclusively for this promotion. Note that Webull can't control market fluctuation, so the stock value may fluctuate.
You can claim your stock after you've deposited money into your account and it's been verified by Webull. Sometimes, it can take up to 5 business days to confirm.
It is not Webull's responsibility if a client's brokerage account goes into the negatives because of a failed transfer. Once an attempt has been made to join in this promotion, the client will not be allowed to join other promotions for "initial deposit."
Clients who transfer a non-Webull brokerage account with at least $2,000 can be reimbursed for transfer fees up to ($100). This only applies to the first account transfer. For example, a client transfers $1,000 on a Monday then another $1,000 on a Tuesday. Even if it sums up to $2,000, it would be invalid for reimbursement because the platform will only value the first account transfer of $1,000.
The client must submit a copy of their most recent statement from their former brokerage account to prove they incurred a transfer fee. Once approved, the reimbursement deposit will be made directly to their Webull brokerage account within ten business days.
These documents are to be submitted as "rollover documents." Go to "menu," click "promotion center," then "deposit bonus." to see your documents.
The stock inventory promotion is comprised of stocks with a market minimum capitalization of $2.5 billion, from a US-based company and listed on NASDAQ or NYSE Stock Exchange. Upon the approval of your account, you can claim two stocks from Webull's platform.
After the initial deposit settles, clients have 30 days to claim their free stock. Webull will not reissue stocks after this date.
Once you've chosen your free stocks, it will be credited to your account within 15 days of trading.
Stocks distributed in this promotion do not represent a recommendation for its purchase, sale, or holding.
Clients can sell or hold their awarded stock(s). The money from selling your stocks can be withdrawn after 30 days of the sale date.
This promotion is only valid once per SSN.
As a requirement by applicable rules and regulations, the monetary value of all received Webull Financial LLC offers may be stated as Other Income on Form 1099-MISC. Webull Financial LLC is not accountable for any taxes linked to this stock reward program.
This program is open to U.S. residents currently living in the U.S. who are at least 18 years old and hold a valid Social Security Number. Contractors, employees, or anyone connected with Webull Financial LCC or a Webull affiliate are not qualified for this program.
Webull Financial LLC reserves the right to modify the incentive, decline the participation of specific customers in its incentive programs, and terminate the incentive program any time without notice.
Other limitations may apply and will be posted on the Webull website or application.
Make Your Own Webull Referrals
When you have successfully opened your Webull account, you can make referral links to enjoy extra free stocks. Each referral stock is valued between $8 – $1600.
| | |
| --- | --- |
| 1st successful referral | 2 Stocks |
| 2nd successful referral | 2+6=8 Stocks |
| Every successful referral afterwards | 2 Stocks for each |
What Makes a Successful Webull Referral?
A new user must use your unique referral link to sign up

A new user opened a brokerage account

They must make an initial deposit of $100 or more within 30 days of account creation

Once the referrals deposit settles, you can choose your stocks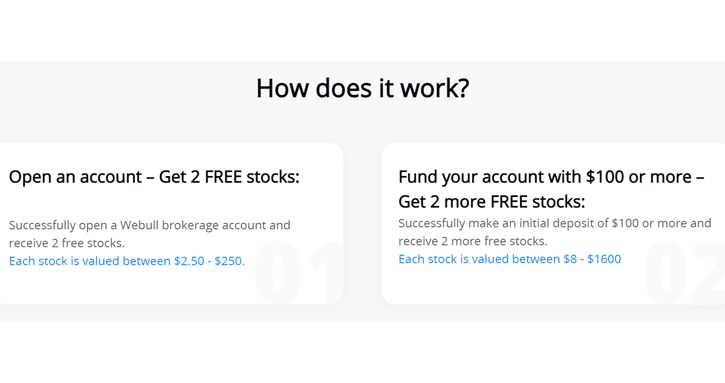 Why Sign-up with Webull?
Zero Commissions
With Webull, you get zero commissions on online stock, options, and ETFs trades. This includes trade options and minimum deposit requirements for brokerage accounts and IRAs.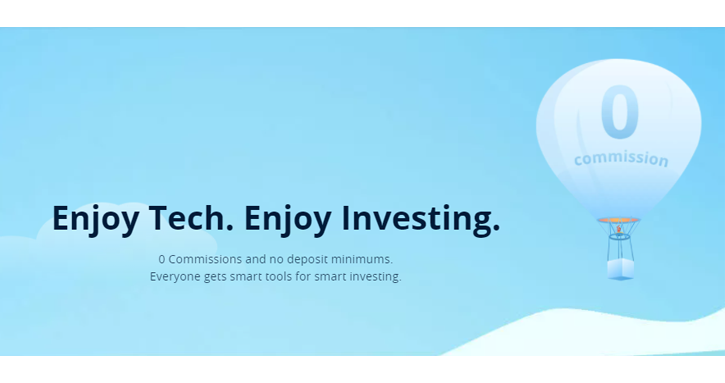 Trading Convenience
Webull has desktop, web, tablet, and mobile platforms to give you easy access to trade. Webull's pre-market is at 4:00 AM – 9:30 AM EST. Webull's after-hours trading sessions are from 4:00 PM – 8:00 PM EST.
Smart Trading Tools
Webull has in-depth analytic tools and charting software with over 50 technical indicators and 12 charting tools. You can play around with Webull's Paper Trading feature to test your trading skills. Webull's stock screener helps traders to sift through the market concisely and quickly.
Free Level 2 Advance Access
Signing up through our Webull Referral Link will instantly give you a 3-month complimentary subscription to Level 2 Advance Nasdaq Total View.
Final Thoughts on Webull
Although Webull is a new brokerage, users love its advanced features like advanced charting, trading data, and real-time quotes. With its intuitive dashboard, you'll see how individual stocks perform and receive Webull's news for investment and trading analysis. These tools allow you to take charge of your investments while paying minimum fees. If you can't make up your mind yet and want to know more about Webull, our Webull Review guide may help you.
There are other similar trading platforms with Webull, and if you are interested to know how Webull compares with Tastyworks, Cash App and Robinhood click here.