Webull Review: What is Webull?
Curious about Webull? Finding the right online broker is a big decision. Experienced investors often have a tougher time finding a platform. Experienced investors have stricter requirements and needs because they know what they want. Discover if Webull is for you in this Webull review. When you do find what you want, chances are it costs an arm and a leg to trade because the commissions are so high or they don't offer enough features. Webull realized each of these shortcomings and created a platform for experienced investors just like you. Advanced investors can actively trade and for no commissions. In this Webull review, we'll cover how Webull works, what it costs, and the features it offers experienced investors like yourself.
What Is Webull?
Webull is a commission-free online/mobile broker that doesn't require a minimum balance. The only time you'd need a minimum balance of $2,000 is if you want a margin account as that's the industry regulations. Investors may trade stocks, options, ETFs, and ADRs. Webull offers both individual taxable accounts and IRAs (traditional and Roth).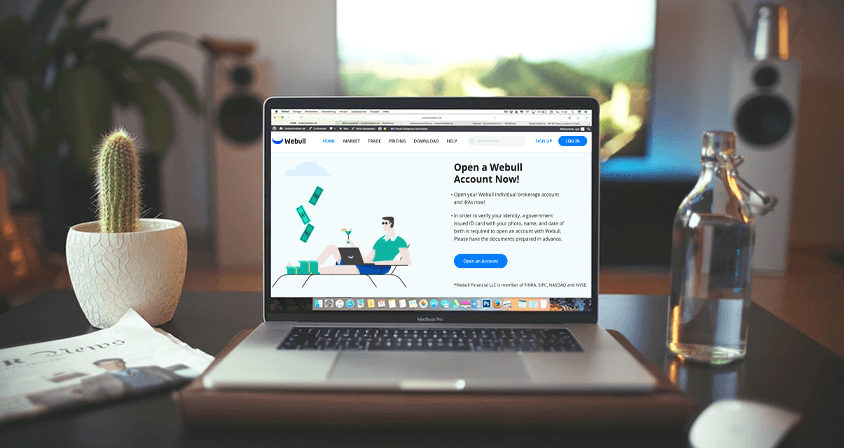 Webull isn't your typical Robo-advisor in the sense that you build your own portfolio. Typically, Robo-advisors take your risk tolerance and goal timeline to create the perfect portfolio, but Webull puts you in the driver's seat, letting you choose the investments and allocations yourself. Let's know more in our Webull review below.
What are the Fees?
Webull doesn't charge commissions on any trades, including options. Most brokers charge $0.65 per contract, but Webull doesn't charge anything. There are no deposit or withdrawal fees, although they do charge for things like wire transfers, both domestic and international. Webull also charges interest on all margin accounts. The exact fees depend on how much you borrow.
| | |
| --- | --- |
| Extended trading hours | Investors may trade outside of regular trading hours from 4 AM to 9:30 AM and 4 PM – 8 PM ET |
| Advanced charting | Webull offers analytical charts of a professional grade for free, and right now, investors can get 3 months of Level 2 market data for free |
| Access to the online and desktop platform | Investors can customize their dashboard, create custom watchlists, and place orders from any device and all information syncs in real-time |
| Paper trading | If you want to try Webull out before committing, you can open a 'paper trade' account which lets you trade in real-time but with fake money |
| Sleek mobile trading | Many mobile trading platforms are lackluster, but Webull's mobile platform has many features enabling you to do everything you'd do on the desktop platform on your phone |
| Cash account | You can have a cash reserve account on Webull, but you won't earn interest. Webull earns the interest, but it's not a bad idea to have some liquid reserves on hand |
| Member of SIPC | Webull is a member of the SIPC, so all brokerage accounts are insured up to $500,000 as we all as $250,000 in cash |
Pros
Cons

No-commission trades – It goes without saying that no commissions are a good thing. While many robo-advisors, like Robinhood, offer this too, no other robust platform for active investors offers commission-free trading like Webull.
Fast approval – You can apply for and get approved for an account rather quickly. As soon as you are approved, you can get up and running, funding your account and making investments as quickly as you want.
Robust research and analytics – Since Webull was made for active investors, it makes sense that their research and analytics goes above and beyond. The data is very technological, which is great for investors looking to make multiple trades a day.

You can't trade fractional shares – Some Robo-advisors allow you to trade less than a full share. In other words, you buy as much of a share as you can afford. This makes it easy to afford to invest in stocks like Apple or Amazon, which many advisors would otherwise be unable to afford. Webull doesn't offer this option.
Webull's customer service is lacking – You can't get in touch with a human if you have a question (at least in most cases). Webull encourages the use of their live help button in the app, or you can send an email.
Limited account types – You may only open an individual taxable account or individual retirement account. Webull doesn't offer joint accounts.
Is Webull Legitimate?
Webull is legitimate and is great for serious and advanced investors. Because they are regulated and insured by the SIPC, it's easy to see that they are legitimate. Even though they are a newcomer to the online brokerage scene, they have plenty of offer serious investors, including the safety and security of working with a legitimate broker.
Webull Referral Program (free stock)
Webull pays its current investors to refer clients to Webull. The promotions change often but typically involve free stock. The current promotion offers 15 free stocks for the first three referrals investors provide during the promotional period. After the promotional period, investors receive 2 free stocks for every referral. Stocks are worth between $8 – $1,600. You can use this Webull referral link and read our other article if you need more information regarding the current Webull referral program.
Webull offers a desktop, mobile, and web trading platform. I'll cover each of them.
Web Trading Platform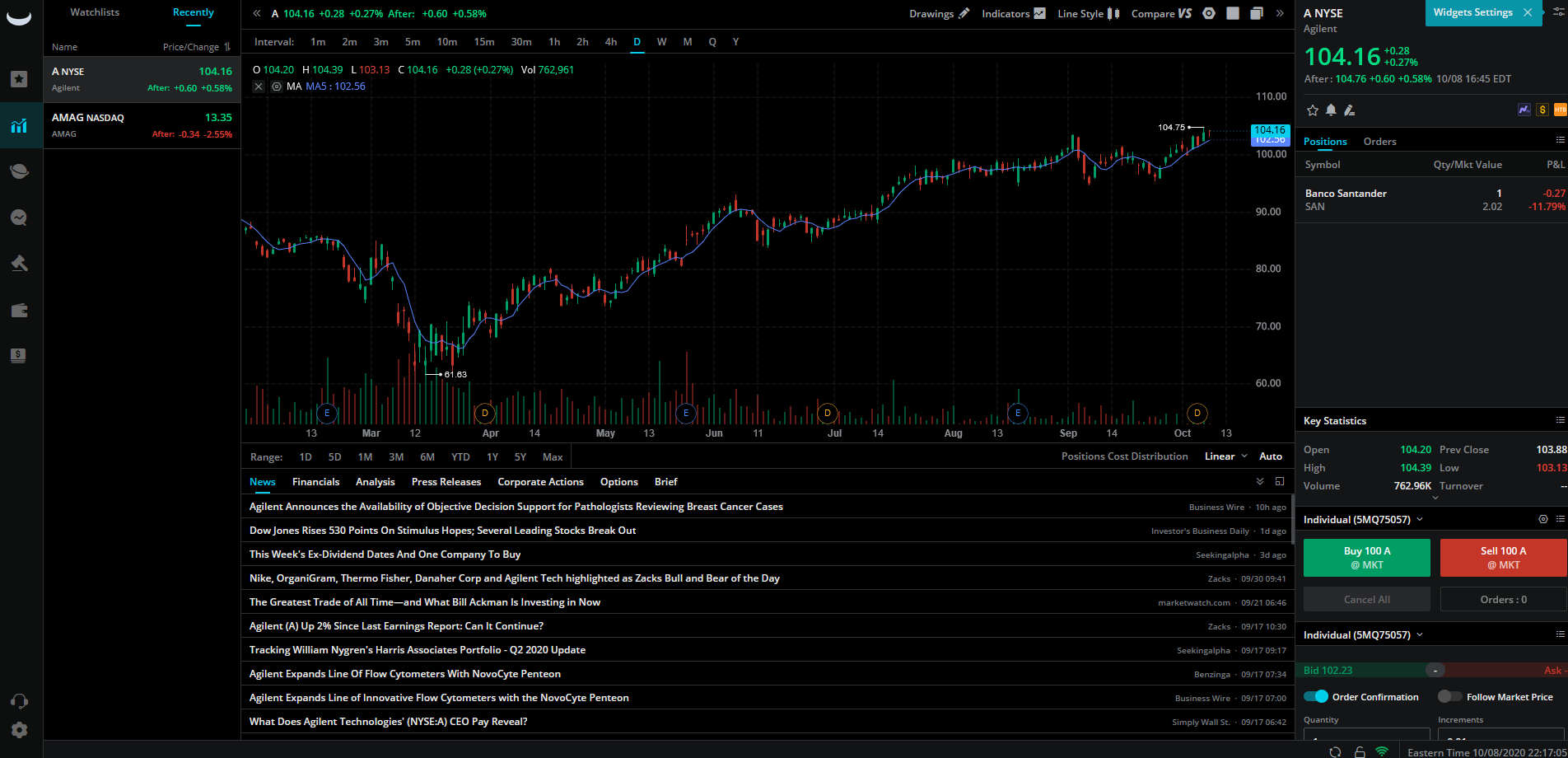 The web trading platform is great for beginning and advanced investors. You can customize the dashboard, and it's easy to navigate. It has a one-step log-in, quality search features, and you can easily set up alerts.
Mobile Trading Platform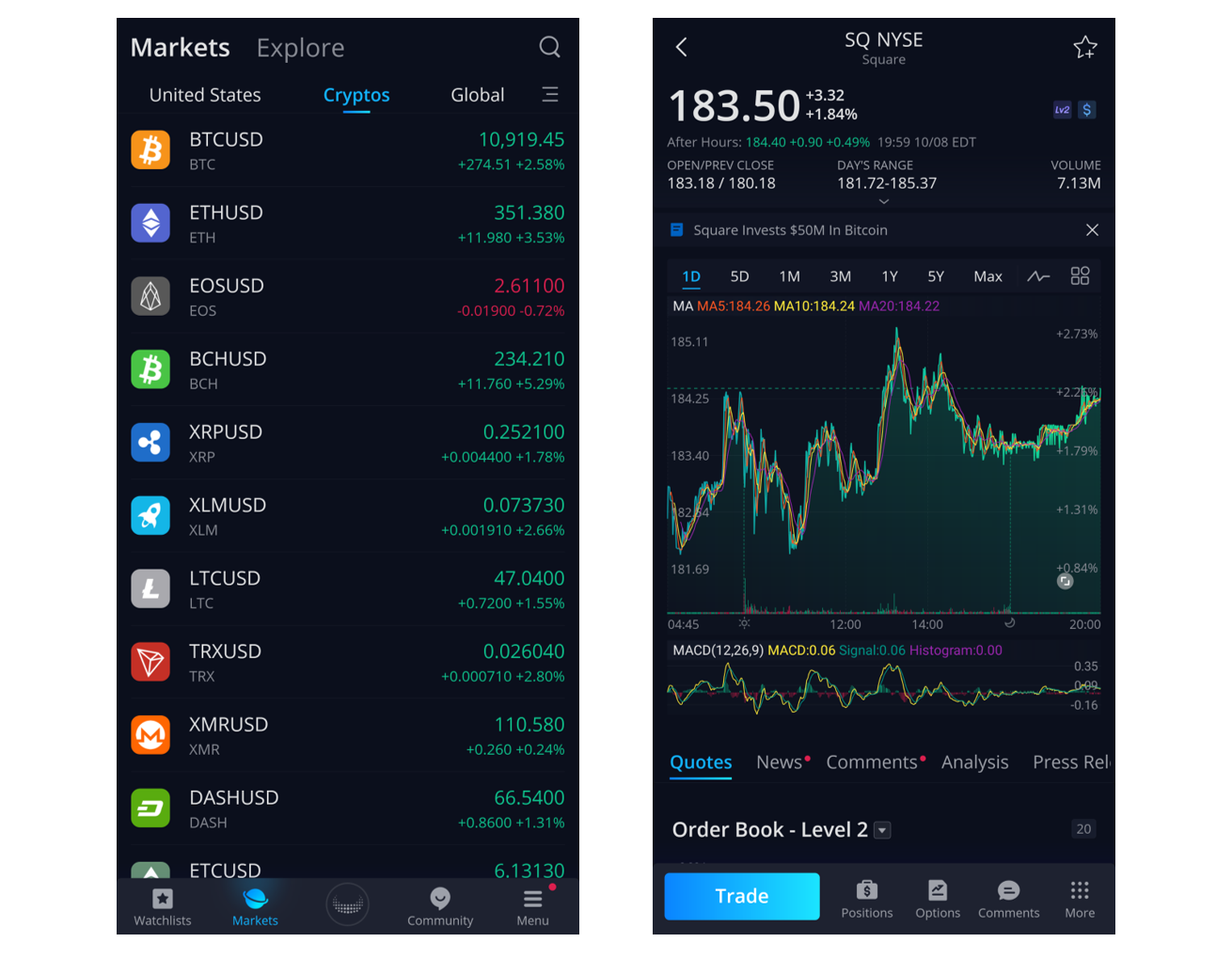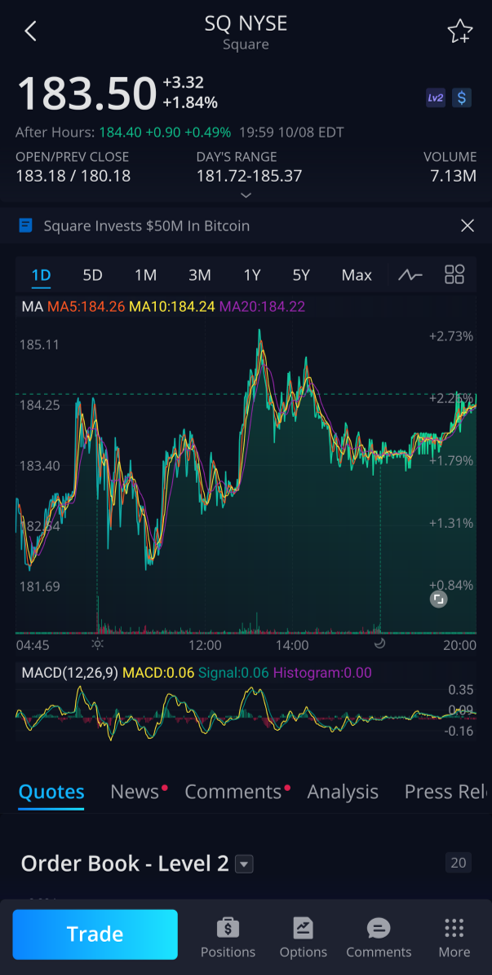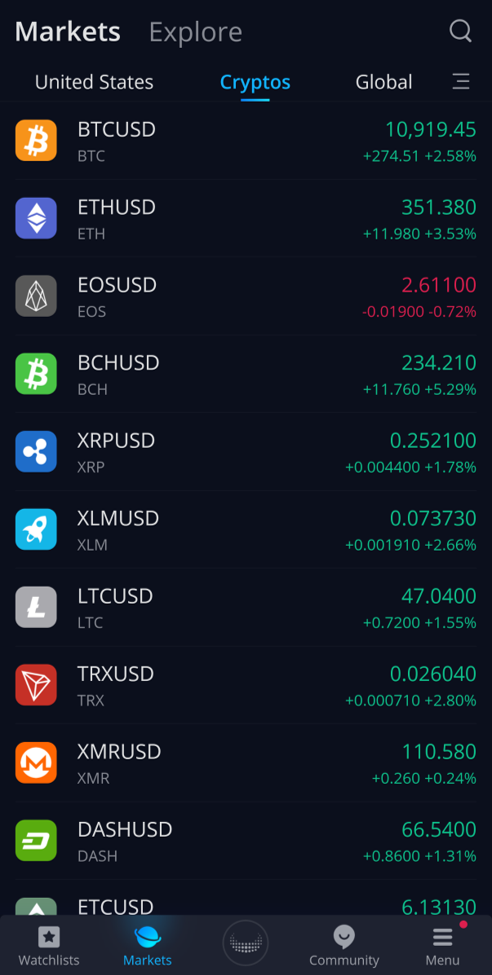 Webull's mobile trading platform is available on both iOS and Android. It's user-friendly and offers most of the functionality you'd find online. You can place orders and receive alerts, just like you can online. The mobile platform has two-step authentication, which is important for a mobile device.
Desktop Trading Platform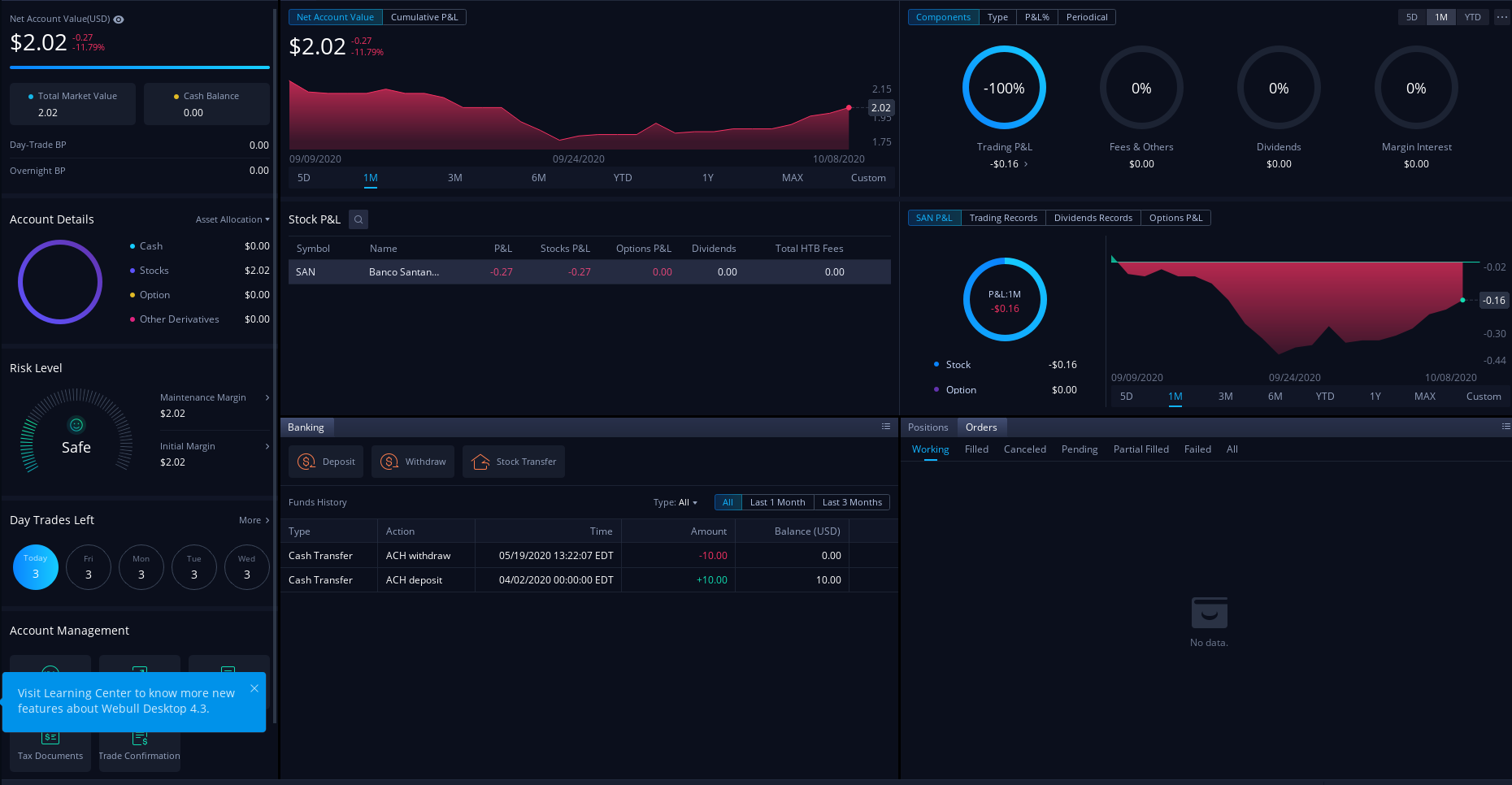 The desktop trading platform is identical to the online platform, but it's local to your computer. Webull desktop 4.0 is user-friendly and fully customizable. It is a native cross-platform application for Windows, Mac, and Linux. You can make multiple displays with your customized layout and experience multi-screen support and better performance.
Webull is a great broker for options trading because they charge $0 commissions, contract fees, or assignment fees. Most brokers charge $0.65 per contract (per leg). It offers basic and complex options trading, but only certain investors may trade the most complex options as your abilities depend on the level Webull assigns you upon signing up. Webull determines your level based on your experience.
Webull Margin Trading Fees
If you have at least $2,000 invested at Webull, you may be eligible for a Webull margin trading account. The fees you pay depend on the amount borrowed (much like a traditional loan). Webull calculates interest on a daily basis, but you pay it monthly. The rates are variable based on the amount you borrow:
$25,001 – $100,000 – 6.49%

$100,001 – $250,000 – 5.99%

$250,001 – $500,000 – 5.49%

$500,001 – $1,000,000 – 5.0%
Webull vs. Tastyworks vs. Robinhood
| Feature | | | |
| --- | --- | --- | --- |
| Commission Free Trading | | | |
| Research Tools | | | |
| Member of SIPC | | | |
| Trading Simulator | | | |
| Tradable Assets | Stocks, ETFs, Options | Stocks, ETFs, Options | Stocks, ETFs, Options, Futures, Small Futures |
| Margin Trading Fee | | with Robinhood gold, fees up to $200/month | |
| Short Selling | | | |
| After Hours Trading | | | |
| Free Stock Promotion | | | |
How Does Webull make money?
If Webull is basically free, how do they make money? It's not as complicated as you think, and it's not a scheme either. Webull makes money on some or all of the following:
Interest earned on uninvested cash you have in your account

Subscriptions to Level 2 market data

Interest on margin accounts

Interest on short sold stocks
Should you Consider Webull?
If you're in the market for a new online broker and are an experienced investor, check out Webull. It's hard to beat the commission-free trades and robust technical analysis they offer. With extended hours of trading and plenty of support, investors love the versatility of this robust investing platform.