Is Binance Legit? Find Out if Binance Is a Safe Cryptocurrency Exchange
Binance is the leading Malta-based cryptocurrency exchange. Six months after Binance started in July 2017, it became the world's largest crypto platform. However, it's been met with much skepticism, especially after the latest hack in May 2019, raising concerns about customer funds' safety. The exchange's legality status is also concerning. One of its harshest critics, Calvin Ayre, claims that the leadership deliberately misleads its users and manipulates crypto prices. In September 2019, he predicted the collapse of Binance within twelve months.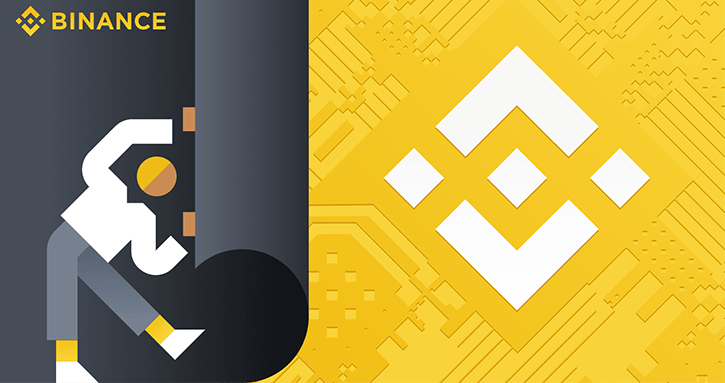 To determine whether Binance is legit, safe, and handles security breaches seriously, let's look and analyze its historical vulnerabilities. After that, we will explore the measures it took to patch up those areas of weaknesses.
Binance's Responses to Hacking Threats
The Binance exchange was a victim of an attempted hack in March 2018. One must applaud how proactive their IT team and automated systems responded to the hack.
The hackers spied on Binance user's log-ins through a phishing website for quite some time. They set up malicious API software that could access any compromised accounts. The victim's crypto wallets held funds in different coin types. The hackers converted the coins to BTC and then bought Viacoin. Binance caught them in the act of attempting to withdraw the new crypto and stopped the fraudulent plan. Withdrawals were suspended, and they subsequently froze the compromised accounts. Those accounts helped recover funds and successfully tracked malicious entries.
The public well-received Binance's swift action to prevent a possible loss of funds. They went ahead to offer a 250,000 USD bounty to anyone who could provide leads about the hackers. They have since advised their users to bookmark their valid website URL to avoid exposing their crucial log-in data to hackers' websites.
The real test of Binance came in May 2019. The exchange lost 7000 BTC, which was worth roughly $40M. Surprisingly, Binance CEO Changpeng Zhao (CZ) didn't take users in circles. He declared that Binance's transparency, even in distress, made them distinct in the crypto industry. Unfortunately, hackers had once again used phishing to intrude into the Binance system. The criminals had unauthorized access to API keys and two-factor authentication codes to withdraw BTC from one of Binance's hot wallets.
CZ Seeks Assistance
Zhao admitted the lapse and revealed Binance's rapport with several crypto industry security experts to boost their system security. The CEO confirmed that Binance would refine their system's API, 2-factor authentication, and withdrawal verification modules to fix security. He saw the need for hardware-oriented-two-factor-verification keys as the proper way to access the site for critical functions. He even proposed an improved KYC and other innovative ways to manage risk against such threats.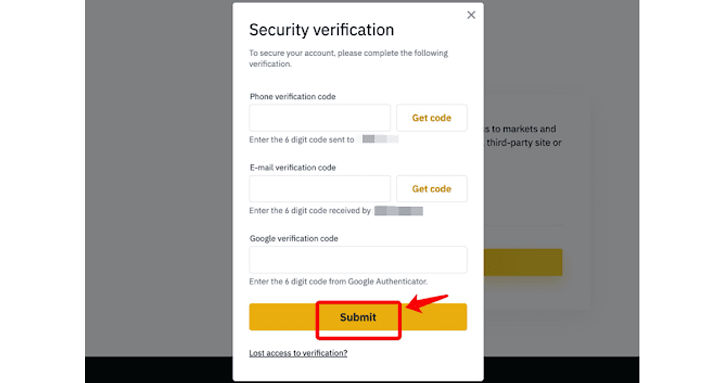 Binance, through an official blog, recently shared crucial security information to its users. The statement outlined best practices for 2- factor authentication, password management, API security instructions, and withdrawal addresses.
To avert further losses, Binance suspended withdrawals and deposits for their numerous user accounts. Shortly afterward, the suspension was lifted, and Binance CEO declared that they would take responsibility for repaying the stolen funds.
In the meantime, trading was, fortunately, not disrupted. The reliability and safety of Binance were confirmed when the exchange managed to pay for the lost BTC from its emergency fund. Binance had set funds aside to ensure financial resilience in the face of such attacks.
Binance Exchange Strengths
1. User Account Security Procedures
Even though Binance was prone to hacking, that doesn't mean they take user security for granted. A user can conduct account signup and trade with a password. However, Binance has made it mandatory for the user to activate two-factor authentication for a successful withdrawal transaction.
Two-factor authentication refers to a system security procedure that prompts the user to provide two different identification forms to access the system. 2FA usually starts with a password or PIN and requires the entry of a code sent to a user's phone number. Though 2FA is not foolproof, it can secure a user's account even if somebody else steals the primary PIN.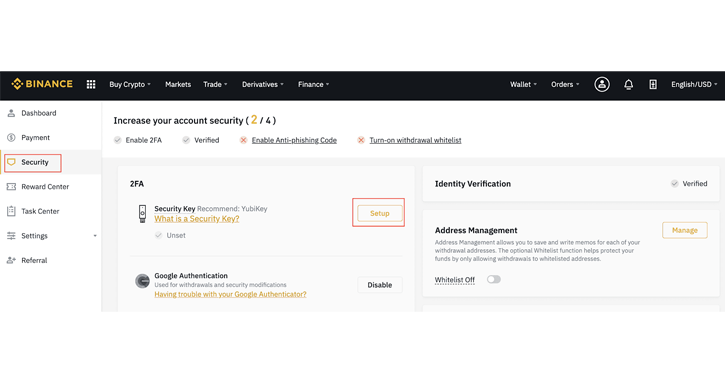 The exchange offers two types of two-factor authentication. The first is the SMS-based 2FA, where the server sends a verification code to the user's mobile device. The second is a Google authenticator. It is a software-based verification method that provides more robust security as compared to the former process
The crypto trading platform supports hardware-based authentication functions, commonly known as universal second-factor authentication (U2F). It is similar to Google authenticator because it is hardware-based.
Account registration at Binance goes through a necessary "Know-Your-Customer" or KYC procedure. Even after a successful account, opening Binance requires further "verification." The user must provide images of a verification document, such as a national ID card, to open an account and become verified.
Unverified accounts are profiled as "Level 1" and can only withdraw 2BTC in a single day. Verified accounts boast of a higher transaction threshold of up to 100BTC in a single day.
2. Binance P2P Cryptocurrency Service
Binance's peer-to-peer service allows users to buy crypto with crypto and fiat currency. It provides a viable platform for users who want to convert their fiat currency to crypto and vice versa.
The platform has a built-in escrow service to protect buyers and sellers from fraudulent users on the exchange. The service also ensures the timely transfer of a currency from two trading parties. This service is top-rated, with over $950 million being exchanged on the service in just eight months.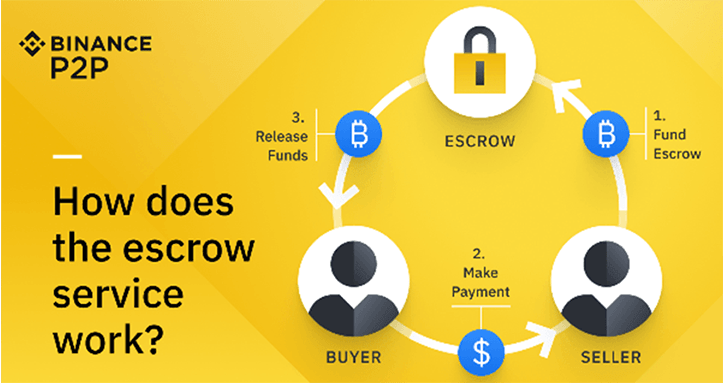 3. Global Reputation
Within just three years, Binance has grown into a popular exchange service based on its trading volumes. It became popular because of its availability in multiple languages, user-friendly interface, and robust system that processes orders swiftly.
4. High Liquidity Levels
High liquidity levels are among the most successful factors of a crypto exchange, and Binance is a market leader when it comes to liquidity. Binance boasts sophisticated trading fee tariffs favorable for users engaging in substantial trade volumes. Moreover, Binance provides incentives to traders who assume market makers' roles and pump money into the exchange, thus boosting its liquidity.
5. Attractive Trading-Fees Structure
Binance promotes a relatively cheaper trading fee structure among its competitors in the crypto industry. Binance charges a standard 0.1% trading fee that appeals to the substantial-volume traders and those who don't need an instant trade settlement. Other exchanges charge at least 0.2% more than Binance. Additionally, traders on Binance will enjoy a 25% discount on trading fees if they trade in Binance Coin (BNB).
6. Vast Cryptocurrency Support
Binance supports around 150 distinct crypto coins. The vast selection is convenient for a trader who wants to trade in numerous cryptocurrencies.
Binance Weaknesses
1. Absence of Regulation
In many jurisdictions around the world, the financial industry is under considerable control. Users may develop cold feet in submitting their investments to a private company not controlled by regulators.
Binance has reportedly transferred its headquarters from one nation to the other in a struggle to keep away from the "oppressive" regulatory jurisdictions. Binance started operations in China, then moved to Japan, and now resides in Malta. However, Malta's MFSA recently declared that it had not licensed Binance to offer cryptocurrency services. The absence of regulation may create fear in traders who want to use the trading platform.
2. Transparency Issues
Binance's competitor, Coinbase, is applauded for insuring their coin. Binance often comes under attack for hiding the security measures it takes to protect its customers. Some users complain about their customer support and the avoidance of questions concerning their security preparedness.
Conclusion
From an analysis of the positive and negative attributes of Binance, it appears that the legitimacy and safety of Binance are more important than its negative aspects. However, the person-to-person evaluation of Binance on trust, reliability, and security remains a matter of opinion.
The internet is filled with various customer experience reviews – from the most negative to positive reviews. We can't deny that the young crypto industry suffers security loopholes due to the absence of safety guidelines for exchange markets. Thus, exchanges cannot guarantee the total safety of your funds. It would be unwise to store all your virtual wealth on one exchange's trading account.
If you're ready to give Binance a go, use our Binance Referral ID: 10185998 and earn 40% back in commissions. For a step-by-step guide on how to sign-up with Binance click here. If you need more information about Binance check out our Binance Review.