Tastyworks Review:  Is Tastyworks the Best Broker in 2021?
Are you looking for a platform that caters to active options traders? You may find yourself frustrated at the limited choices you have, as options are typically an afterthought, not the reason a platform was built. Tastyworks offers a refreshing change, though – a platform built just for traders like you. Read our tastyworks review to see how it works, if it's worth it, and what you should expect.
Tastyworks Review – What is Tastyworks?
Tastyworks is an offshoot of Tastytrade, which was created after the founders of Thinkorswim sold their first brokerage firm. The founders knew that what retail traders needed didn't exist. That's when they created Tastytrade, a helpful resource for active retail options traders.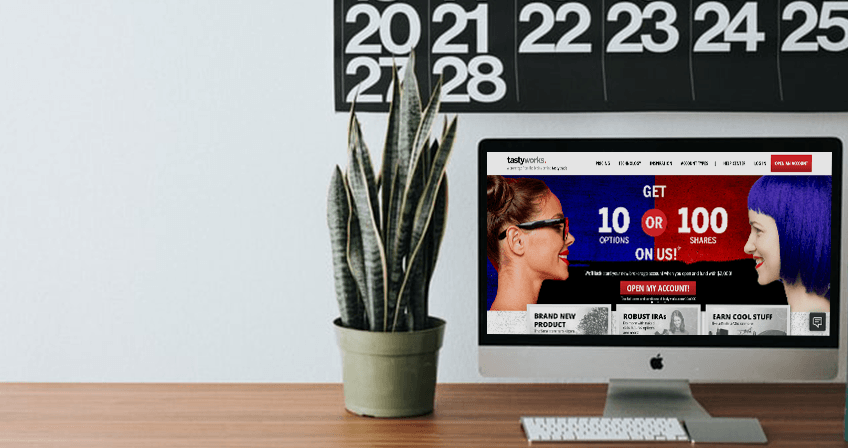 From Tastytrade, Tastyworks was born. Tastytrade provides the resources you need and Tastyworks provide the platform.  Officially approved as a broker-trader in 2016, Tastyworks was launched to the public in 2017 to become the best options trading broker available today.
Tastyworks has four founders – Scott Sheridan, Krisi Ross, Lindwood Ma, and Tom Sosnoff. All were co-founders of Thinkorswim and now play an integral role in Tastyworks. Tom Sosnoff, was a lead market maker at the Chicago Board Options Exchange, who is proving to be an integral part of Tastyworks' success, as he brings his years of options trading experience to Tastyworks. Sosnoff remains a host of Tastytrade, covering market information with Tony Battista Monday- Friday. Tastytrade is an integral part of Tastyworks. You can watch the Tastyworks live stream from within the platform and follow Tastyworks traders in the social tab. Interestingly, you can review, duplicate, and execute their trades all in one place.

Tastyworks: Designed for Active Options Traders
Tastyworks isn't your traditional stockbroker. Instead, they focus on actively traded options. We want to stress two things here – Tastyworks trades options and works with the most active traders. The traders that know the ins and outs of options and futures like the back of their hand or that they can learn quickly from Tastytrade. This isn't your typical stockbroker for standard stock trades, though the commissions and fees for stock trading are very competitive.
Tastyworks knows active traders need low commissions. Low commissions make it easier to trade, especially when you're conducting numerous trades a day. Unlike TD Ameritrade and Fidelity, Tastyworks offers lower trading commissions to open and close trades, making it feasible to trade often, making quick profits on your trades (make sure to read our comparison reviews, where we compare the cons and pros of each platform side-by-side).
It's important that we inform you about the assets you can't trade in our Tastyworks review too just so you don't feel misled.
While you'll find thousands of options, futures, and stocks, you can't trade bonds or mutual funds with Tastyworks or any fixed assets. Since bonds and mutual funds are mostly long-term trades, this typically isn't an issue for active traders as you can't have 'quick wins' with bonds and mutual funds.
With Tastytrade, you can trade:
Options on stocks and ETFs
Tastyworks Commissions and Fees
As we said earlier, Tastyworks shines when it comes to commissions and fees, especially when compared to its competitors making it one of the best options trading brokers available today.
In our Tastyworks review, we found that you can open and close stock and ETF positions at $0 commissions. Options on stocks are $1 to open the order and $0 to close it. Options on futures cost $2.50 per contract to open and $0 to close. Open and closing futures positions cost $1.25 per trade, and trading futures e-micros cost $0.85 per contract to open and close.
While all of the Tastyworks commissions are low and much lower than its competitors, Tastyworks really shines is its $0 stock trading commissions, no matter the volume! That could be significant savings for active traders trading multiple stocks per day.
Tastyworks also caps its commissions, capping equity option trades at $10 per leg. For example, 50 single leg puts/calls cost $10 commission to open and $0 commission to close, when normally it would have cost $50.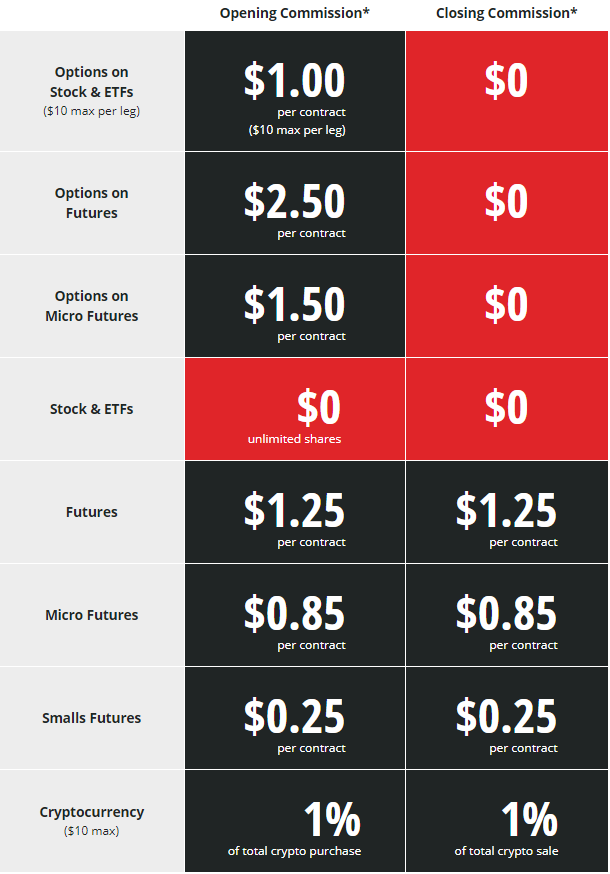 Here's another example – 100 credit spreads would normally cost $200 – $100 for each leg. With the commission cap, though, you'd only pay $20.
There's no comparison on the market today to the commission caps tastyworks offers, especially if you're into advanced options trades and trading multiple legs per day.
Tastyworks Trading Platforms
Tastyworks offers three platforms – desktop, web, and mobile, which is another reason it's one of the best options trading brokers available today.
Desktop Platform
The desktop trading platform is Tastyworks' most popular platform. You get the most speed, which is crucial for high volume trading. It uses the latest technology to offer lightning-fast tasks that provide the latest news, charts, and analytics that enable you to make fast decisions.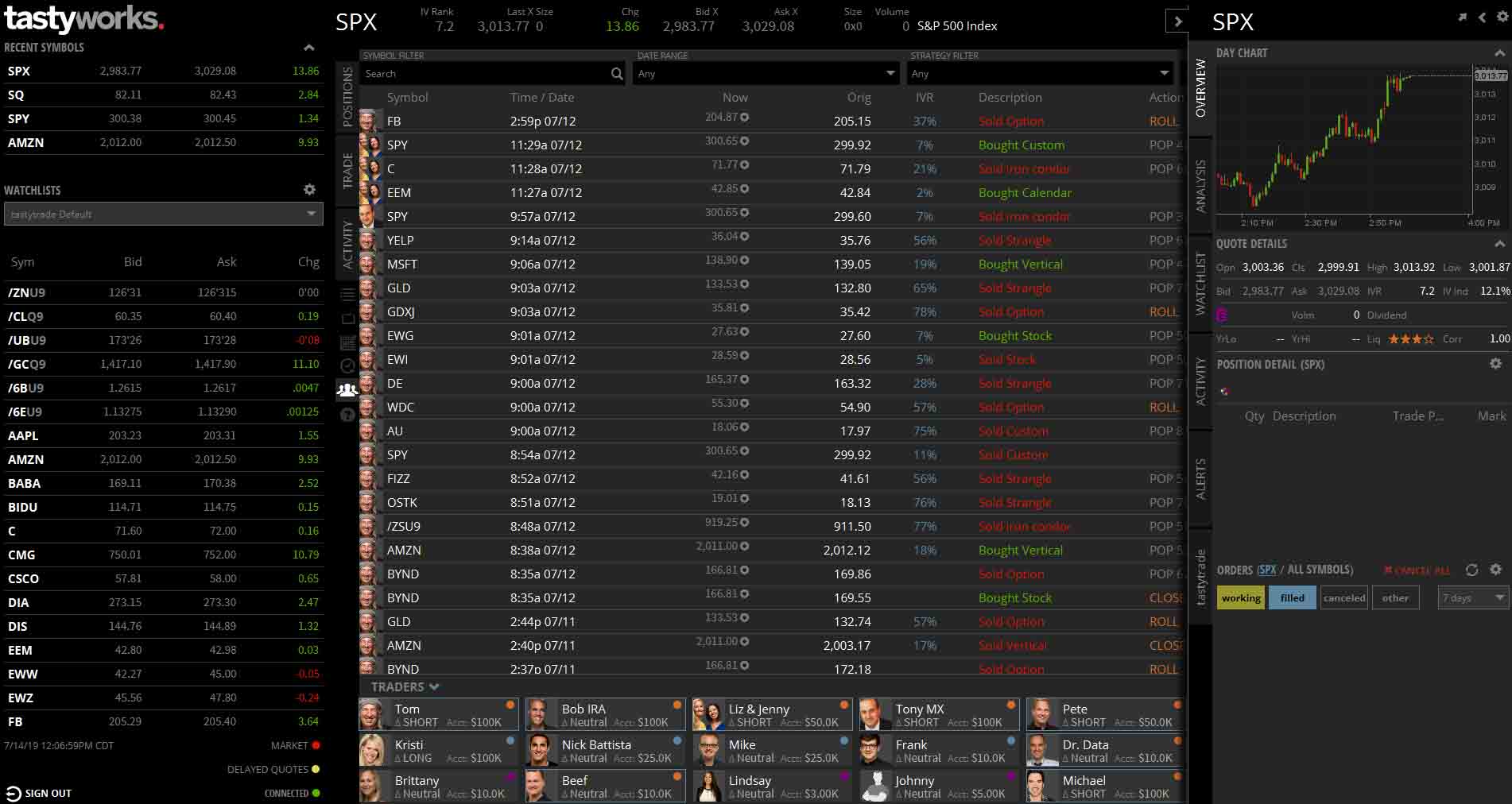 The Tastyworks desktop platform offers instant access to Tastytrade resources making it even easier to have all necessary information to make fast and profitable trades. The desktop platform is completely customizable, with price and order notifications. You may also customize your report options.
Web Platform
The web platform works in much the same way as the desktop platform with the exception that you can log in from any device that has an internet connection. Just like the desktop version, you can customize your notifications and report options. The main difference is the lighter footprint and the fact that the information is saved in the cloud, giving you real-time access to the data no matter where you log into your account.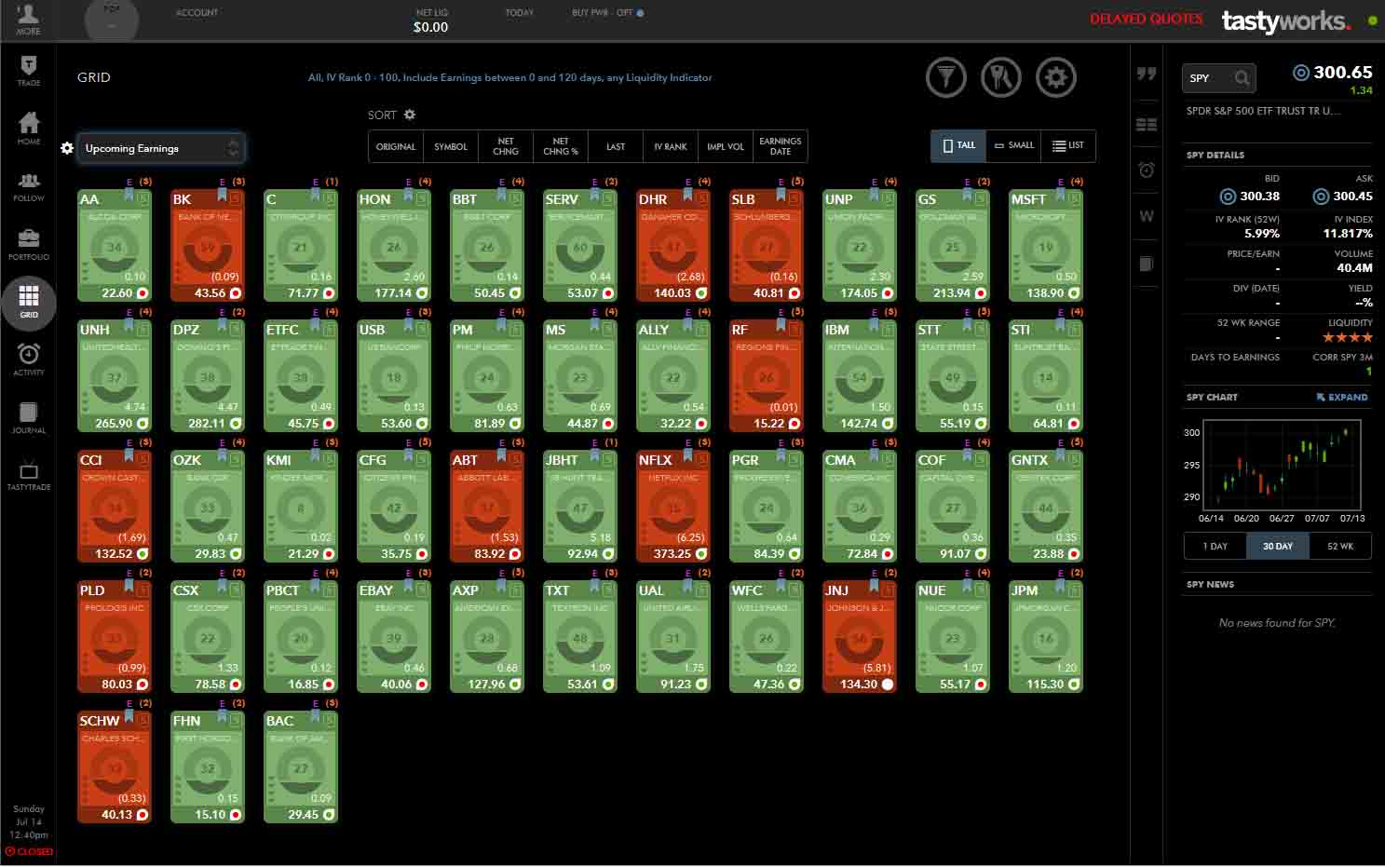 Mobile Platform
For traders that operate 'on the go,' Tastyworks offers a mobile app that is available on both Apple and Android devices. The mobile device has some of the same functions as the web and desktop platform, but with some limitations. For example, it doesn't have price alerts, but you can open and close trades just as seamlessly as on the other platforms.
Tastyworks Sign-up Promotions
Tastyworks pays you to try out their platform. Currently, Tastyworks has two active sign-up promotions: 1) 100 shares of stock (up to $600), and 2) $250 trade challenge. You can read more about the details of these promotions on our Tastyworks Promotions page. Briefly, the 100 shares promotion is an opportunity to get 100 shares of stocks when you open a qualifying account and fund your Tastyworks account with $2000 USD. This offer is valid from 07/01/2020-06/30/2021. For the $250 challenge promotion, all you have to do is open and fund your account with $2000 USD. Once you do, tell support that you want to participate in the Tastyworks Challenge. You get two days or two consecutive trading sessions to paper trade stocks, ETFs, and options. At the end of the two days, Tastyworks tallies up your earnings, if you earn at least $250, they'll pay you the earnings in real cash in your account.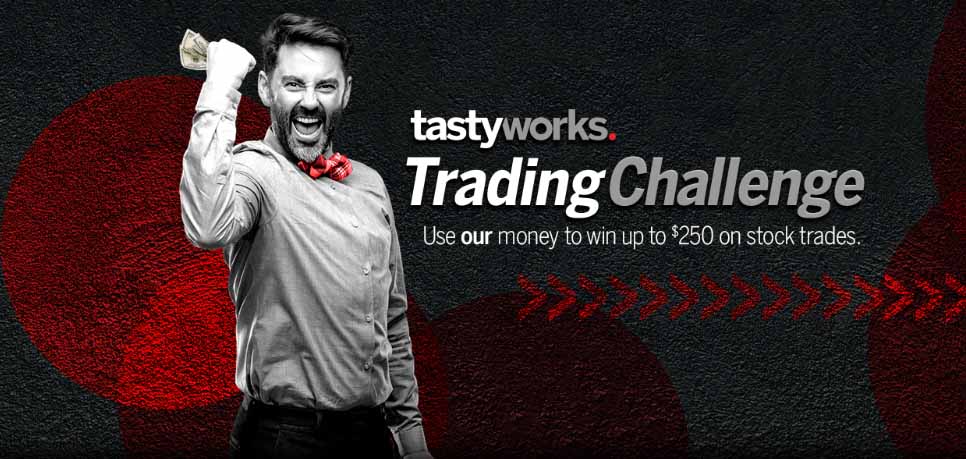 Here's how it works. You get $5,000 in 'paper money' and full access to the platform to trade equities and ETFs. You receive real-time pricing and have similar trading rules, although not all rules are enforced. Don't worry, you don't lose 'real money' if you lose during the challenge.
Tastyworks Education
Get access to the most up-to-date news from Tastyworks' educational platform Tastytrade. You'll get information on trading, live news broadcasts and live trading shows during regular trading hours Monday – Friday.
You also get access to Luckbox Magazine, with a 10-issue free subscription. You get immediate access upon signing in to your Tastyworks account and opting into the magazine. Luckbox magazine offers more insight and tips for active investors.
Tastyworks Small Exchange
Tastyworks also has something exciting in the works – the Smalls Exchange. Meant for retail customers that up until now have been unable to trade futures, the Smalls Exchange makes it simpler, more efficient, and more affordable to do just that.
The Tastyworks Small Exchange was founded by Tastyworks' co-founder Tom Sosnoff and the founders of Peak6, Matt Hulsizer, and Jenny Just. It just received CFTC approval in March and will be a U.S. futures exchange to start, but will also include options trading at a later date.
The Small Exchange will include:
The contracts will be smaller and more affordable for retail customers. The contracts will be settled monthly on the third Thursday.
Tastyworks Referral Program
It wouldn't be a full Tastyworks review without talking about the referral program. If you have an active and funded Tastyworks account and you refer a qualified client, you'll receive referral credit. Each referral credit can be redeemed for cash deposited into your Tastyworks account or prizes, such as a Google Home (2 credits), 1 year of high-speed internet (10 referral credits), or a trip for 2 to Chicago (20 referral credits).
Just log into your Tastyworks account and look for your 'generate referral link' button at the bottom of the home page under 'Refer' and follow the steps. You can read more about the Tastyworks referral program on the Tastyworks website or on the TastyReferral blog.
Tastyworks Review Summary
Tastyworks is a great platform for active options traders. In our Tastyworks review, we found the following pros and cons of the platform.
Pros
Cons

Great educational content
Low commissions
Commission caps on option legs
Access to great research tools
All-in-one platform to make all of your trades
Advanced charting capabilities

The learning curve may be a little steep for new traders
You can't trade international stocks or options
If you're an active trader and are looking for great commissions with excellent research opportunities, open a Tastyworks account today.