Rakuten Referral: Earn a $20 Reward
Earning cash back with Rakuten has improved many user's spending and shopping habits. If you aren't familiar with Rakuten, you may have heard of Ebates – one of the most famous cashback and shopping rewards companies since 1997. In 2014, Rakuten acquired Ebates and created better programs with more offers. To begin earning cashback with Rakuten, use our Rakuten Referral link. 
Join millions of Rakuten members who are already getting paid for shopping at online stores. Members can earn cashback from Rakuten's commission from its partner stores and by purchasing anything with Rakuten. Wondering how to get started? Check out our essential guide that covers everything you need to know to understand Rakuten.
How to Sign-up With a Rakuten Referral Link
Rakuten generously rewards Rakuten members who refer others to their platform. Each Rakuten member has a unique referral link to share. If you don't have a Rakuten account yet, sign-up with our Rakuten Referral Link and follow the guide below:
Open this link https://www.rakuten.com/r/TASTYR24?eeid=28187 Click "Join Now."
You will be re-directed to a sign-up where you will need to create an account using your email address and a password. Click "I'm not a robot" and follow the instructions given for captcha validation.
You can see your $20 welcome bonus status when you click "My Account."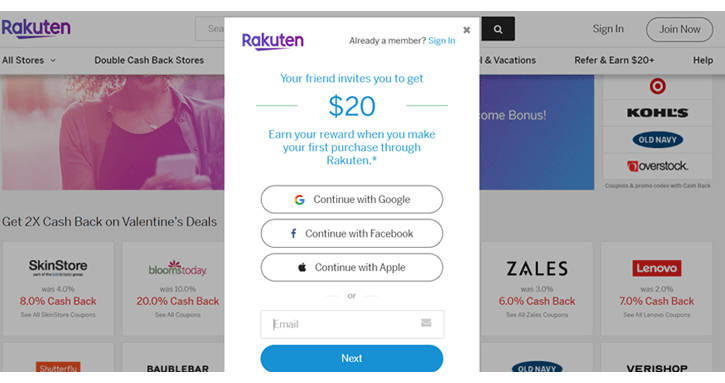 How to Become Qualified for Rakuten Referral
To make sure that you qualify for the Rakuten referral program, follow the guidelines below:
You must be a new member of Rakuten

An individual (no businesses or legal entities allowed)

Must be located in the United States or Canada

Use a custom referral link to register your account

Comply with the Terms and Conditions

Make a qualifying amount of purchases within 90 days of your registration
Restrictions Under Rakuten Referral
Listed below are activities not allowed, which may disqualify both the referrer and referee from receiving bonuses through the Rakuten Referral program.
Self-invitation is prohibited

You cannot make purchases on behalf of somebody else

Fake accounts, web pages, blogs, profiles, links, websites, or messages are strictly prohibited

Sending of bulk emails, especially to strangers, or any advertising that may appear as unsolicited commercial email or "spam."

Usage of Rakuten logos or reference to their trademarks or tradenames in any advertisements

Paid advertising for the intention of creating traffic directly to your referral link

Attempt to deceive anyone with the referral program

Making any content or action that is defamatory or disparaging to Rakuten

Numerous accounts with the same name, email address, and address will be identified as a fraudulent referral
Why Join Rakuten and Sign-up via Rakuten Referral
Earn Unlimited Cashback at Your Favorite Stores 
There are over 2,500 stores in partnership with Rakuten. You'll be surprised to see multiple store options for women, men, children, home décor, toys, electronics, and more. Click here if you want to see the complete list of online stores Rakuten affiliations.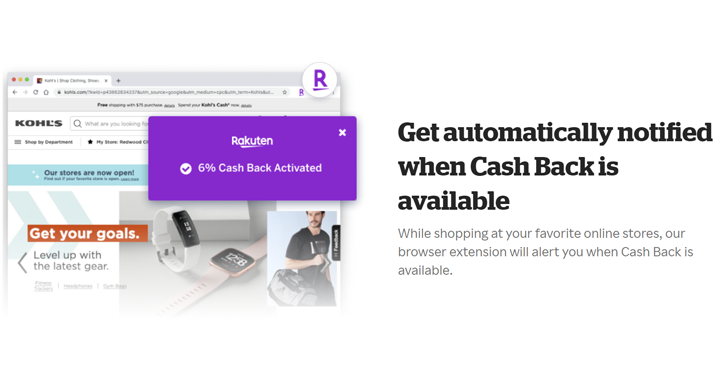 Find Amazing Deals and Coupons
Rakuten will update you with the best deals and sales from your favorite online stores. There are daily updates for trending deals and recent sales that may help you earn more cashback at Rakuten.
Claim Your Cashback Conveniently via Check or PayPal
Receive your cashback payments in two ways:
Big Fat Check – This is a check issued to the name and address you used in your account setting

PayPal – Your payment is transferred to the account with the PayPal email address that you have registered
Both options are free, and payments are sent out every three months.
How to Get Your Rakuten Cash Back Payments
Here are steps that you must follow to ensure that you receive your Rakuten cashback payments:
Verify the mailing address on file. Update or add your address in your account settings if changes need to be made.
Before the next cashback payment period, you must earn a cashback total of more than $5. If your total cashback is less than or equal to $5, it will be carried over to the next payment period.
Final Thoughts on Rakuten Referral
Receiving cashback on purchases you already make while receiving promotional codes and coupons with Rakuten saves users tons of money! Rakuten supports thousands of products and services people need every day. Why shop without Rakuten when you can earn double cashback and use tons of coupon codes, anyway?
Using Rakuten is easy and rewarding at the same time. If you are not yet a Rakuten member, join today using our Rakuten Referral Link to receive a $20 sign-up bonus and earn cashback continuously from your purchases. Experience Rakuten and realize how easy it is to save money. If you want to learn other ways on how to earn money despite the pandemic, check out 12 Ways to Make Money During the COVID-19 Pandemic – Tasty Referrals.
Aside from Rakuten, to get more rewards when you shop, check out Ibotta Referrals too.