How Does Webull Compare with Other Trading Apps:  Webull vs. Robinhood vs. Cash App vs. Tastyworks
If you're looking for a way to increase your money, trading in the stock market is a great path to pursue, even if you've never tried to trade before. The stock market consists of exchanges such as the NASDAQ and the New York Stock Exchange. These exchanges allow sellers and buyers to work as a market for the stocks available. The markets will track the supply and demand of each stock along with the fluctuation of the price.
To participate in the selling and buying of stocks, you need to use an online broker to represent your trade. They will either sell or buy according to what you want and exchange the stock on your behalf. There are plenty of brokers available to you through different trading applications such as Webull, Robinhood, Cash App, and Tastyworks. The application you should choose depends on your specific trading goals and preferences. We'll touch on each one to help you decide which platform will work best for you.
What Is Webull?
Founded in 2017, Webull is a mobile-focused, community-driven online broker that is easy to use with a well-designed interface. It offers additional research, trading tools, and education to help its users make informed trading decisions. It features ETF (exchange-traded fund) and commission-free stock trading. Webull is an excellent platform for Intermediate to Advanced traders or very active traders with accounts under $100,000. Beginners may benefit from Webull's paper trading options. If you want to know more about Webull, we have this Webull Review ready to help you.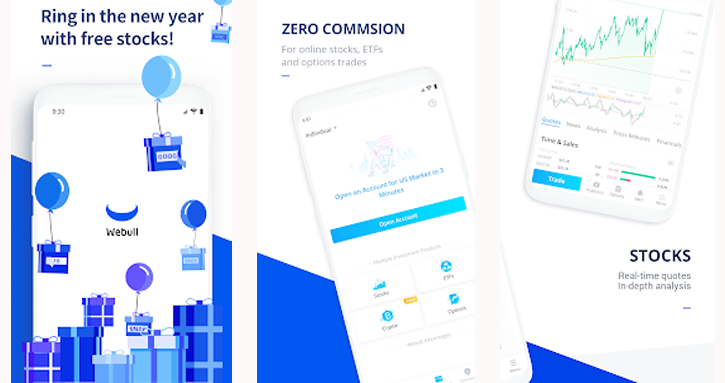 Webull Features 
Commission-free trading, allowing you to trade over 6,000 different ETF's and stocks

No additional fees for the software platform or account maintenance

Free to open an account, and no account minimums to maintain

Technical and fundamental analysis tools available to assist traders in the buying process.

Free stock bonus when you open a new account

Offers Cryptocurrency investing
What Is Robinhood?
Founded in 2013, Robinhood is a commission-free investing tool that focuses on providing the basics. This application is perfect for beginners, as it is easy to use and features a ton of advice about investing basics and tools. It is pretty simple in terms of the trading experience, so if you're an experienced trader looking for advanced tools and features, this platform may not be suitable for you. If you're curious to know how Robinhood compares with Tastyworks, click here.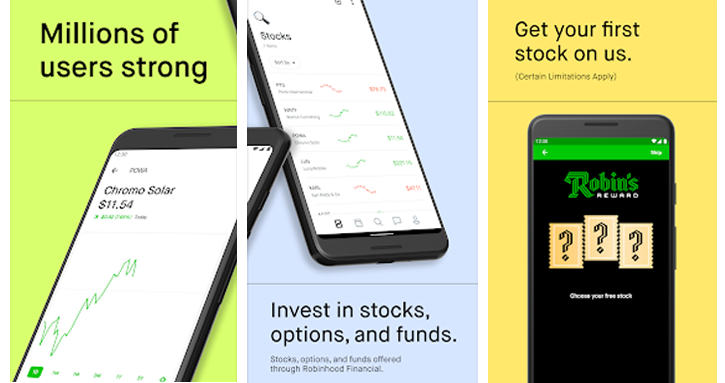 Robinhood Features
Easy to trade from a mobile device

Ability to trade Cryptocurrency

Intuitive and streamlined to allow a simple user experience if you want to watch stock performance and monitor your portfolio

One free stock to new members
What Is Cash App?
Founded in 2019, Cash App is a money transfer service that quickly allows you to receive and send money between peers or friends with a click of a button. Cash App functions similarly to a bank account, allowing users to purchase things using a debit card. The app also lets you sell or buy stocks and bitcoin. The platform is excellent if you're looking for a way to purchase small fractional shares and want a simple investing experience without commissions tacked on. This is not the best account if you wish to have multiple investment options or various account types. Do you need a referral code to sign-up with Cash App? Read our Cash App Referral Code article and get $10 free.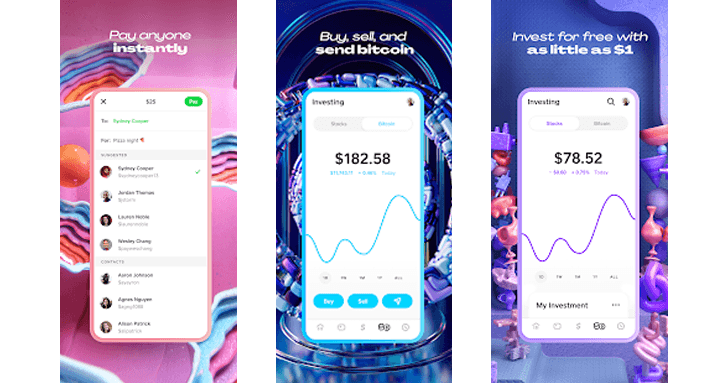 Cash App Features
Fractional Share investing which is helpful for beginners or those who have a smaller amount of funds to work with

Multi-Tasking app that can trade and buy shares can pay money to friends and receive money from others, all within one platform.
What Is Tastyworks?
Founded in 2017, Tastyworks is a popular trading platform developed from an online video financial channel named Tastytade. Tastyworks offers trades only in the stocks and options market. It features a unique trading structure to make the price lower than most large brokerages. Tastyworks is excellent for active traders however lacks some trading options like bonds or mutual funds. You have probably heard that Tastyworks has a very generous referral program, read our article about Tastyworks Referrals to get referral bonuses.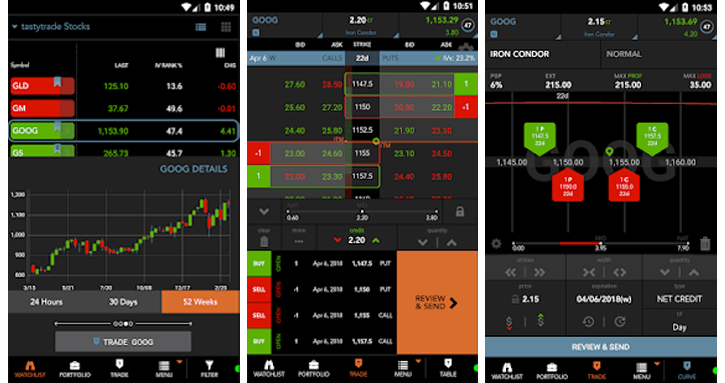 Tastyworks Features
Best platform for options

Useful research tools and educational materials

Offers trading on stocks, futures, and options on stocks and futures
Trade Experience and Usability
| | |
| --- | --- |
| | Webull is available on desktop as well as iOS and Android devices. Webull has plenty of analysis and charting tools available for intermediate to advanced traders. The user face is not that easy to navigate, which might be difficult for new traders. |
| | Robinhood offers both web and mobile trading. The platform is easy to use and is purposely built to be basic. It has a simple navigation system, with educational research and tools readily available. |
| | Cash App is a mobile application that works on the iOS and Android platforms. It is not available on your PC or Mac laptop. Cash App has a simple interface with big font and limited options available. The application is perfect for beginners who want basic options to begin investing. |
| | Tastyworks is available on both mobile and web for trading. The Tastyworks platform is a bit challenging to learn, especially if you're unfamiliar with derivatives. The platform is big for options and futures, which may be complicated to understand as a beginner trader. |
| Instrument | | | | |
| --- | --- | --- | --- | --- |
| Stocks & ETFs | | | | |
| Bonds | | | | |
| Crypto-Currency | | | | |
| Short Selling | | | | |
| IRA's | | | | |
| Trade on Margin | | | | |
| Pre-Market/After hours trading | | | | |
Fees and Commissions Comparison
| | |
| --- | --- |
| | You won't pay any commissions to trade on Webull. However, if you're looking to do a wire transfer instead of an ACH transfer to add or take out money from your account, you could incur fees up to $75. If you want to upgrade to a subscription to access their different levels, this will cost between 1.99-4.99 per month, depending on the package you choose. |
| | Robinhood does not charge any money to trade stocks or options. You may face a $75 outgoing wire transfer fee if you don't connect your bank account. If you want to subscribe to their Robinhood Gold program, it cost's $5 a month. |
| | Cash App does not charge any fees for trading stocks. Cash App does charge a fee when trading bitcoin. The cost is not currently listed but will display before you complete your transaction. This fee fluctuates depending on market prices. |
| | It's free to open stocks trades but will cost you $1.00 to open options trades. It won't cost you anything to close stocks or options trades. Future trades cost $1.25 per contract. Account transfer fees can cost up to $75. |
| | |
| --- | --- |
| | Webull's customer service is available 24 hours a day with live representatives. However, this is only available through online chat. If you try to call their toll-free number, it may take anywhere from 30 minutes to a few hours to reach a live person. |
| | Robinhood offers a Chatbot to answer simple questions you may have about the platform. They have an e-mail that they can be reached at, but it may take a while to get a response back from the company. |
| | Cash App has low ratings for it's customer service. Phone calls and e-mails are open 24/7 but will go unanswered for up to a week at a time. If you do end up getting through, you may find yourself not getting a straight answer. FAQ's are available on their online website. |
| | Tastyworks support is only through e-mail due to their office being closed during Covid-19. They usually respond within 24 hours of an e-mail request. |
| | |
| --- | --- |
| | Webull publishes weekly newsletters to let their users know about different active stocks or ETF's they should be aware of. There are charts and analytical tools that can be used to learn more about a stock's performance. |
| | Robinhood provides a constant stream of analysis and news from popular websites for every stock you're looking at. There is basic chart functionality available to compare stocks. Robinhood provides tutorials and FAQ's but no step-by-step educational resources. |
| | Cash app has an online beginners course to teach you the basics about stocks and trading. However, Cash app lacks in-depth charts and analysis options that other platforms offer. |
| | Tastyworks features various financial news outlets and education along with multiple tools to help you understand stocks and how they move. An educational series was created to help experienced or intermediate stock buyers learn more about the stock market. |
| | |
| --- | --- |
| | Webull is a member of SIPC, or the Securities Investor Protection Corporation. SIPC will protect up to $500,000 per member. Multiple top tier financial authorities regulate Webull. |
| | Robinhood has a lot of technical security, such as two-factor authorization. However, Robinhood does not carry the SIPC insurance that other platforms have invested into. While there have not been any breaches or issues yet, it's a concern that your money is not protected if something was to happen. |
| | The Cash App platform is secure in terms of making sure you're the only person logging into your account. However, Cash App has faced scams and hacks before. They are not a part of the SIPC either, so your money is not covered if something was to happen. |
| | Tastyworks offers a two-factor authentication along with fingerprint and face recognition on the mobile application. They have SIPC coverage with a cap of 37.5 million per account. The platform is secure and has had no past data breaches. |
Final Thoughts
All four platforms will allow you to trade stocks. Some of the features, education, and security components are very similar to each other. However, the most significant difference between the four is the type of accounts you can open and the level of expertise you should have before using the application.
If you're brand new to the investing world and want simplicity, check out Robinhood or the Cash App. When you know a bit about the investing world and want to grow in your knowledge but don't care about having multiple account options, check out Tastyworks. If you know about stocks and enjoy different account options, check out Webull. Grab the opportunity to earn free stocks by signing-up through Webull Referral.